Hilton Head Plantations & Nearby Areas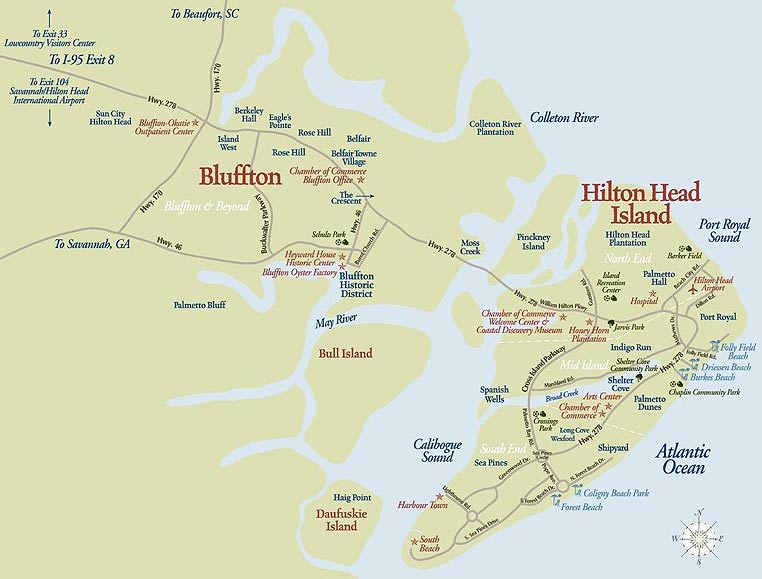 ---
The Island Plantations
Folly Field | Forest Beach | Hilton Head Plantation | Indigo Run | Long Cove | Palmetto Dunes | Palmetto Hall | Port Royal | Sea Pines
Shipyard | Spanish Wells | Wexford | Yacht Cove

Off Island Plantations
Belfair | Berkeley Hall | Bluffton | Callawassie Island | Colleton River Plantation | Daufuskie Island | Hampton Hall | Moss Creek | Oldfield
Rose Hill | Windmill Harbour

Other Areas
Beaufort | Haig Point | Hilton Head Island | Low Country | Palmetto Bluff | River Bend | Spring Island | Sun City
---
The Island Plantations
A "plantation" on Hilton Head Island is another word for a planned community with strict covenants and controlled access. The map on the next page shows the plantations of the Island, followed by a scale of the association fees for each plantation and a brief description of each. Part of the information given is about the different clubs associated with each plantation. Memberships are based on residency/non-residency, individual/couple/family requirements, and which type of membership you desire (golf, tennis, social). Because the packages offered are so diverse and complex depending on your personal requirements, we have included a contact name and phone number and suggest that should you have questions concerning club memberships you call for more detailed information.
FOLLY FIELD
In the last few years, the area between Palmetto Dunes and Port Royal Resorts has become known as "Middle Beach." Long before there was a bridge, this beach area had been favored by many island visitors. You will hear long time visitors and locals still refer to Middle Beach, or as it once was known Colliers, in endearing more specific terms. There is Singleton's beach, Driesseen's beach, Bradley beach, Burkes beach, and Folly Field. There is beach parking at most of these beaches, and the Islander's Beach Park is in Folly Field. During the last five years Singleton Beach has been undergoing a transformation, and is now one of the island's newest oceanfront and ocean oriented permanent and vacation home developments. The Burkes and Bradley beaches still have some of the islands first beach oriented homes mixed with newer homes. The island's best surfing is found in the Middle Beach area between Burkes and Bradley beaches.
The Folly Field Beach area is where the majority of Middle Beach resort development has taken place. This area is home to many island visitors who have been frequenting the island since 278 was a dirt trail, and dotting the streets there still some of the more traditional Carolina beach homes. Hilton Head Beach and Tennis Resort, which opened in the early eighties, is a gated 800 unit ocean front resort complex. Its amenities include the island's largest ocean front pool, twelve lit tennis courts, a convenience store, restaurant, and a beach bar cafe. Fiddler's Cove, adjacent to HHBT, is a smaller resort, but has design similarities, and is also gated. This resort has two pools, and lighted har-tru tennis courts. Half a mile up the beach is The Island Club. This gated ocean front complex is superbly landscaped, and very well designed. Its lighted tennis club is noted as having some of the island best maintained courts. A few minutes up the beach from the Island Club is the Westin Hotel, the Barony Beach Club, and Port Royal Village with its famous Port Royal Tennis Club.
FOREST BEACH
Abutting Shipyard to the south and west is the more traditional residential area of Hilton Head known as the Forest Beach Community. Divided into two distinct yet similar communities by the Coligny Traffic Circle and Coligny Plaza, North and South Forest Beach Drive are two of the oldest residential and commercial districts on the Island. Lying at the end of Pope Avenue on Hilton Head's south end, Forest Beach offers beachfront homes, villas, rental properties and hotels, not to mention its popular shopping, dining and entertainment opportunities.
HILTON HEAD PLANTATION
Occupying almost 4,000 acres on the northern comer of the Island with frontage on Port Royal Sound and the Intracoastal Waterway, this community offers to its residents all the amenities of a resort. Within the confines of Hilton Head Plantation you'll find Bear Creek Golf Club, Oyster Reef Golf Club, Dolphin Head Golf Club, and The Country Club of Hilton Head. There are twelve tennis courts, jogging trails, nature conservancies, a community recreation center, two miles of beautiful beach on Port Royal Sound, and the most glorious sunset on earth at Skull Creek Marina located directly on the Intracoastal Waterway. In addition, there is excellent dining and shopping facilities.
Facilities:
Golf - four courses (72 holes), two open to the public
Tennis - eighteen courts
Swimming - recreational center and area neighborhood pools
Beach - 2 miles
Marina - 1
Fishing - Lagoon, creek, deep water. Charters available.
Bike paths/jogging trails - 6 miles
Access - Controlled, passes available to guests of owners and to public recreational facilities
Club Information - Call:
Oyster Reef: 843-681-6662
Bear Creek: 843-681-9510
Dolphin Head: 843-681-2867
The Country Club of Hilton Head: 843-681-2582
INDIGO RUN PLANTATION
Located on Highway 278 across from Hilton Head Plantation, Indigo Run is another of the newer residential communities. The first of two golf courses, designed by Golden Bear Golf Associates, opened for residents in the fall of 1979 and to the public in the spring of 1993. The second course, designed by Nicklaus and Nicklaus will be private and have a clubhouse complete with all the amenities! Fifty-five exclusive home sites called the River Club, located on Broad Creek, share a recreation area with pool, tennis, and club!
Facilities:
Golf - Two courses, one private
Tennis - at residents club
Swimming - at residents club
Marina - day dock for residents (at the River Club)
Access - Controlled, residential club areas private to owners/guests
LONG COVE CLUB
This is a completely private residential community Its golf course, designed by Pete Dye, has been named one of the top twenty in America by Golf Digest and is open only to owners and their guests. Residents also enjoy boating, swimming, tennis, and fishing in their exclusive and quiet environment-Long Cove border's on the wide marshes of Broad Creek and has its own small marina.
Facilities:
Golf- one private course
Tennis - private racquet club
Swimming - at club
Marina - private - on Broad Creek
Access - private - property owners only!
Club Information -Call 843-686-1020 for details.
LOW COUNTRY
Hauntingly beautiful is perhaps the best way to describe South Carolina's Low Country and Resort Islands. Miles of white beaches washed clean by the tide - free of tracks except those left by a hermit crab or sea turtle, endless marshes alive with the calls of birds and rustling flight, and trees laden with Spanish moss add to its ethereal setting. It is this ambiance that annually draws thousands to Hilton Head Island, the region's most popular world-class resort. Hilton Head's recreational facilities include hundreds of tennis courts and over two dozen championship golf courses, one of which annually hosts the nationally televised golf tournament, The Heritage.
PALMETTO DUNES
Palmetto Dunes is a 2000 acre resort/residential community and is one of the most visited on the Island. When you consider the three miles of beach, the three championship courses designed by Fazio, Trent Jones, and Arthur Hill, the twenty-five court Palmetto Dunes Tennis Center, and Shelter Cove Harbour - the largest deep water harbour on the Island - surrounded by Fine restaurants, shops, and villas, it is no wonder Palmetto Dunes is so popular!
One of the unique features of this plantation is the twelve mile lagoon system, fed by the waters of Broad Creek, which meanders by the homes and villas and is great for canoeing and fishing. The Leamington area of Palmetto Dunes, behind its own Security gate is the most exclusive section of the resort. The home sites have the challenging Arthur Hills Course and Clubhouse as their centerpiece! In addition, located across from the Arthur Hills Clubhouse is a recreational center with pool, baby pool, pavilion, and boat dock on the lagoon system as well as a Beach Pavilion providing Leamington residents direct access to the Atlantic Ocean! The Beach Pavilion has a large sun deck, restrooms, storage, and showers.
Facilities:
Golf-three courses (54 holes) open to the public
Tennis - 25 court center and neighborhood courts
Swimming - pools in all visitor areas
Beach - 3 miles
Marina - 1
Hotels - Hilton and Marriott
Fishing - Lagoon, creek, and deep water. Charters available.
Sailing - Rentals, lessons available
Bike Paths - 6 miles
Shopping - major area at marina
Access - Controlled - residential areas, property owners only
Club Information - Call for complete details of plans available and cost.
PALMETTO HALL PLANTATION
This is the most recently completed residential community on the Island. The Arthur Hills golf course has been praised for its quality of design and natural beauty. The master plan for Palmetto Hall indicates 500 home sites on the 750 acres with over 200 acres devoted to natural wetlands, preserves, and lagoons. There is a grand "Old South" style clubhouse for residents, and a large pool, tennis courts and children's play area.
Facilities:
Golf - private, residents and guests
Tennis - at the clubhouse
Swimming - at the clubhouse
Fishing - Lagoon
Access - Controlled, residential and club areas private
Information - Call 843-785-1106 for complete details
PORT ROYAL PLANTATION
Located on the north end of the Island where Port Royal Sound meets the Atlantic Ocean, this completely private plantation is the point first sighted by Captain William Hilton when he first "discovered" the Island. The water views here are the most grand on Hilton Head. Just outside the plantation is the world class Port Royal Resort with three 18 hole golf courses, two championship croquet courts, and the 16 court Port Royal Racquet Club which has three court surfaces - hard, grass and clay. The resort also has the Westin Hotel, which is South Carolina's only four diamond resort hotel!
Facilities:
Golf three courses (54 holes). One alternates monthly as a private course for residents
Tennis - 16 court racquet club
Swimming - Resident's club. Olympic size pool and wading pool Beach
4 miles Hotel
The Westin Access - Controlled - parses available to resort guests.
Residential areas private.
Club Information -Tennis, Golf, Social, and Sports memberships available.
Call 843-935-CLUB for complete details on various packages available.
SEA PINES PLANTATION
As pointed out earlier. Sea Pines was the original planned development on the island, and became the model for those which followed. The "Grandfather" off Island-Plantations was founded in 1956 by Charles Fraser. For a number of years Sea Pines and Hilton Head were synonymous. For most the candy striped lighthouse in Harbour Town has come to symbolize the Island and its sensitive mix of residential and visitor oriented developments and recreational facilities blended anonymously into their natural surroundings. Sea Pines is home to both the MCI Heritage Classic, a popular tournament on the PGA tour, and the Family Circle Tennis Tournament. With over 5,000 acres it is the largest of the Island's plantations. Almost 1300 of these acres are devoted to parks, forest preserves, lagoons and marshlands!
Facilities:
Golf - Three public courses (54 holes) / one private course (18 holes)
Tennis - 80 courts
Swimming - pools in all visitor areas
Beach - 6 miles
Marinas - 2
Fishing - Lagoon, creek, and deep water. Charters available.
Sailing - Rentals of boats and sailboards. Lessons available.
Riding - Lawton stables. Trail rides in the Forest Preserve.
Bike Paths - 40 miles plus
Shopping - 3 major shopping areas available
Access - Controlled/daily or annual passes for a fee.
Club Information - golf, tennis, swimming, social - billed quarterly according to resident/non-resident status.
SHIPYARD PLANTATION
Fully half of this plantation is devoted to multifamily developments, and therefore, most of the people you run into are probably visitors in the pursuit of a good time. This is one of the more "active" plantations for that reason. Of the three 9 hole golf courses, Clipper and Galleon have hosted the PGA Tour three times! The Shipyard Racquet Club has been called "possibly the most beautiful tennis complex anywhere in the United States" and is rated in the top 50 tennis resorts in the country by Tennis Magazine. There is a "quieter" side of single family homes in Shipyard, but for the most part it is fast-paced and fun.
Facilities:
Golf - three 9 hole courses open to the public
Tennis - 24 court resort and neighborhood courts
Swimming- pools in all visitor areas
Beach - access at beach club and hotel
Hotel - Crystal Sands
Bike Paths - over four miles
Shopping - at the hotel
Access - Controlled
Club Information - Call1-800-935-CLUB for complete details on various plans.
SPANISH WELLS PLANTATION
When the Spaniards explored this part of the coast they landed on this area of the Island to get fresh water - hence the name Spanish Wells. Because of its remote location "off the beaten path" of Highway 278 Spanish Wells has evolved into the most serene and quiet of all the plantations. Located on a point of land between Calibogue Sound and Broad Creek, it has its own nine hole golf course and club. It is completely private.
Facilities:
Golf - one private nine hole course
Tennis - at: private racquet club
Marina - private, individual docks
Access - Private, owners and guests only!
Club Information - Call 843-681-2819
SPRING ISLAND
Those who seek something rare and naturally beautiful should look no further than Spring Island, one of the last private sea islands on the Atlantic coast. Located 18 miles from Hilton Head Island and 15 miles south of Beaufort, this 3,000-acre private plantation features the attributes of a national nature preserve with the amenities of a first class resort When completed, Spring Island will contain only 410 homes, making it one of the lowest density communities on the East Coast. Its Habitat Review Committee and naturalist staff are always on guard, ensuring that the nature preserve, clubs, recreational facilities and homes are graciously woven into the plantation's ecological fabric.
The amenities at Spring Island are a unique mix and cater to the sporting lifestyle. There is an equestrian facility with boarding stables, miles of marked trails, skeet and sporting clays plus hunting. Residents can kayak, boat and fish for crabs and shrimp. More traditional offerings include a swimming pool, fitness facilities and tennis. Spring Island's exquisite 18-hole Arnold Palmer golf course is designed for those who enjoy the scenery as much as the game - and prefer to walk.
WEXFORD PLANTATION
Possibly the most exclusive community on Hilton Head, Wexford is known for its stately homes and the man-made harbour and canal system which allows many property owners to moor their boats at: their back doors! Boaters can enter Broad Creek through a lock system which protects the harbour from tidal fluctuations. Community life is centered around the Wexford Club which provides the residents with a private golf course, tennis and croquet clubs, and of course the harbour!
Facilities:
Golf- one private course
Tennis - private racquet club
Croquet - one court
Swimming - Club facility
Marina - 1, private
Fishing - creek and deep water
Dining - private club, restaurant, and lounge
Access - private, property owners only
Club Information - Call 843-686-8810 for details.
YACHT COVE PLANTATION
Yacht Cove is a small residential community tucked between Long Cove and Shelter Cove with frontage on Broad Creek. Several individual residential areas and a dock on the water are included, It is centrally located to shopping, dining, golf and businesses.
Facilities:
Swimming - area pool
Fishing - Creek
Marina - dock on creek
Off Island Plantations
BELFAIR PLANTATION
Belfair is a completely private club lifestyle with a convenient mainland location only five miles from the bridge to Hilton Head on Highway 278. Distinguished by its magnificent Avenue of Oaks, this 1,028-acre community is the Finest of its kind on America's East Coast. Here, fronted by the saltwater marshes of the scenic Colleton River, those in search of the ultimate private community will end their search.
Facilities:
Golf - two 18 hole championship courses
Tennis - racquet club
Family Activity Center - swim club, stocked Fishing lake with fishing dock, all-purpose playing field and picnic areas
Swimming - outdoor and indoor pools
Fishing - on the 42 acres of natural lake
Club Information - Call 843- 842-1100 for complete details.
BERKELEY HALL
Life is casual in the beautiful riverfront property that is Berkeley Hall. A great Golf Learning Center and two golf courses make a superb experience. Other interests and activities include fitness and spa treatments, tennis, kayaking and boating, area activities and community gatherings. Miles of trails will take you through the beautiful nature of Berkeley Hall in the heart of South Carolina's Lowcountry. Pristine beaches, tidal rivers and old woods create a wonderful climate.
Facilities:
Golf - Two Tom Fazio designed courses, Golf Learning Center, a 30-acre practice facility, expert staff, and dedicated service.
Tennis - Six Har Tru courts are available
Family Activity Center - A resort-style outdoor pool, the zero entry is perfect for young children and the indoor pool will let you keep up lap swimming all year.
Swimming - outdoor and indoor pools
Club Information - Call 843- 815-8422 for complete details.
BLUFFTON
Located just across the bridge from Hilton Head Island, Bluffton is a quaint, charming town that offers a fascinating window into South Carolina's past, present and future. Antebellum homes, historic churches and unique shops line the moss-shaded streets of Bluffton's downtown historic district, offering a taste of Lowcountry living. Bluffton, a town whose name refers to its location atop a scenic bluff along the May River, also is home to a growing number of residential communities, ranging from Sun City to Belfair, each of which features lush, verdant landscapes filled with home sites, golf courses, and other amenities.
In recent years, a number of award-winning restaurants and popular shopping centers have developed along the Hwy. 278 corridor which connects Bluffton and Hilton Head Island. With its old-fashioned charm and forward-thinking development, Bluffton continues to attract visitors and residents in search of a relaxed lifestyle and strong sense of community in the heart of the South Carolina Lowcountry.
CALLAWASSIE ISLAND
Callawassie Island is the unfound jewel of the South Carolina Low Country. Located midway between Beaufort and Hilton Head, it is the most stunning piece of real estate in the low country. Its majestic live oaks have never been harvested like most other properties in the area. Callawassie is the most secure residential area in the entire low country. It is only accessible via a guarded (24 hours a day, seven days a week) causeway.
Although Callawassie is primarily a golfer's paradise, it also has a world class tennis facility with 6 state of the art clay courts, and is staffed with a full time resident pro.
Features:
Golf - 27 Fazio golf holes. It hosts the South, North Carolina professional golfer's senior tournament on an annual basis. The senior PGA players rave about the course!
Tennis - 6 state of the art clay courts
Family Activity Center - A main clubhouse, include a dining/pool facility on the Colleton river, which features docking facilities for most sized craft. There is an additional pool facility located at the main clubhouse. The club also offers a fully equipped and staffed athletic training facility.
Club Information - Call 843.521.1533 for complete details
COLLETON RIVER PLANTATION
Colleton River Plantation is located on the Colleton River just two miles from the bridge to Hilton Head. It Is a private country club community centered around the Jack Nicklaus Signature golf course and clubhouse. There is also a nine hole par three course, a Stan Smith tennis facility, and a swim club. There will be only 395 single family homesites in this exclusive 700 acre community. All homes will offer either a golf, marsh, or river View.
Facilities:
Golf - one 18 hole course, one nine hole par three course, private
Tennis - racquet club
Swimming - at the swim club
Fishing - lagoon, creek, and deep water
Marina - waterfront property owners can have private docks
Club Information - Call 843-689-3131 for complete details.
DAUFUSKIE ISLAND
At the top of everyone's list is the fact that Daufuskie is an island accessed only by boat. Whether it's a comfortable passenger ferry from Hilton Head, bucking the currents in a kayak, or arriving on your own craft and tying up in the marina at red marker 36, arrival on Daufuskie's shell-strewn shores takes a degree of effort that is well-rewarded.
Daufuskie is a friendly spot - there's a strong sense of community, and everyone pitches in for the good of the Island, whether it's the school fundraiser, a wedding, or the annual all-island golf tournament held on the public beach. Many of the local residents are skilled artisans and craftspeople who appreciate the support and enthusiasm of neighbors. And, everyone here - visitor, student, paramedic, homeowner, worker - relies on the ferry system, promoting a certain relaxed ambience. Friendships are born on the crossing, deals consummated, romances sparked. And there's always the option of sitting topside, taking in the salty air. As an old-timer put it "It's easier to have an emergency here than in a big city Golf - If golf is your game, Daufuskie beckons with three championship courses designed by prominent designers Rees Jones, Jack Nicklaus, Tom Weiskopf and Jay Morish.
Tennis Tennis buffs can stir up a racket on one of the island's many tennis courts, many lighted for night play Family Activity Center - Daufuskie is a paradise for families with children. Not only are there heated oceanfront swimming pools, there's a teen pool, children's wading pool and even a whirlpool. Also, you'll find special planned programs where kids can discover the difference between a heron and an egret while you pursue your own discoveries.
Club Information-Daufuskie Island Resort & Breathe Spa | 800.648.6778
If you wish to get away from it all to a place where even automobiles can't travel but still have all the creature comforts of a country club environment, then Daufuskie Island may be for you! Because of its remote location between Hilton Head Island and the mainland, this small barrier island of approximately 5000 acres has been slow to develop.
Accessible only by boat, much of it is still covered by forests of moss-draped oaks. But now, three developments modeled after Hilton Head plantations have brought resort life to this quiet little island! Haig Point features a unique 29 hole golf course designed by Pete Dye which is rated in the top 1% in America! Among plantation amenities are an equestrian center, racquet club, beach club with pool, and private dock and ferry boats. Club Information - Call 843-686-9204 for complete details. The Melrose Club is truly a "national" club with members from all across the country! Members enjoy the Jack Nicklaus designed golf course, the Sportman's Lodge and equestrian center, a beach club, a tennis center, a health club, pools, restaurant, and lounge - everything one would expect in a fine resort! Club Information - Call 843-842-2000 for complete details. Bloody Point Plantation, on Daufuskie's southernmost part, features the Island's only "oceanfront" beach which faces the Atlantic. The others face Calibogue Sound looking across to Hilton Head. It also features a top ranked golf course designed by Tom Weiskopf and Jay Morrish and has all the other amenities of a world class resort!
HAMPTON HALL
Hampton Hall is a private, gated, country club community nestled within 1,000 acres in Bluffton, South Carolina, and is just minutes from Hilton Head Island, Savannah and historic Beaufort A community designed after the most charming Mediterranean villages, Hampton Hall was created to cater to the lifestyle of both the golfer and non-golfer. Enjoy world-class amenities everyday, from the private Pete Dye golf course, luxurious central community clubhouse and separate activities center, to the miles of hiking and biking trails that wind their way through the community's natural landscape.
Facilities:
Golf- : World-Class Pete Dye private 18-Hole Golf Course with Private Members 10,500 Square Foot Golf
Tennis - Lighted Courts
Swimming - Indoor and Outdoor
Clubhouse : 22,000 Square Foot Clubhouse featuring Indoor & Outdoor Pool, Fitness Center, Dining, and Tennis Courts
Walking/Biking Trails : 6 1/2 Miles of Walking and Biking Trails
Fishing - Large Community Fishing Lake and numerous Ponds and Lagoons
MOSS CREEK PLANTATION
Moss Creek is located just across the bridge from Hilton Head on the mainland residents are within minutes of the Island's major shopping centers and fine restaurants, 30 minutes from Savannah, and yet enjoy country estate living in their totally private community! Residents enjoy, exclusively, two championship Fazio golf courses with no problem getting a tee time. When residents aren't golfing you might find them boating, hiking, swimming, fishing, playing tennis, or walking in the nature preserve.
Facilities:
Golf - two exclusive courses
Tennis - several courts at the tennis center
Swimming - pool at the marina
Marina - 1, access to Intracoastal Waterway, boat ramp.
Fishing -lagoon, creek, and deep water
Riding - stable
Biking - throughout
Access - Private, owners and guests only
Club Information - Call 843-837-2229 for complete details.
OLDFIELD
Located almost equidistant from Hilton Head Island, Beaufort, SC, and historic Savannah, GA, Oldfield is a golf course community located on the Okatie River, featuring the first Greg Norman championship golf course in the area, waterfront activities and the renowned relaxing Lowcountry lifestyle.
Facilities:
Golf - 18-hole, championship golf course designed by Greg Norman, 5 sets of tees
Tennis - Six lighted tennis courts, pro shop
Swimming Outdoor pool, heated lap pool
Marinas - 2 Community docks
Historic River House, featuring Member's Bar and gourmet dining
Fishing - Outfitters Center provides easy access to fishing, kayaking, crabbing, shrimping & fly-fishing
Resident river pro and naturalist
Access - 24-hour manned gate
Shopping - 3 major shopping areas available
Club Information - 843-379-2566
ROSE HILL PLANTATION
Located six miles from Hilton Head, Rose Hill is 3,000 acres of Lowcountry charm where stately homes on large lots are the norm. When visiting Rose Hill Plantation, be sure to go by the historic Rose Hill House, one of the few surviving antebellum homes outside Savannah or Beaufort in the area. A favorite Sunday outing for visitors and residents is a tailgate picnic at one of Rose Hill's polo matches. Several tournaments are played each year. In addition to the equestrian center, there is boating, fishing and crabbing on the Colleton River, or golf on the Rose Hill Country Club's 27 challenging holes.
Facilities:
Golf - 27 holes, public
Tennis - racquet, club
Swimming - three pools located in various recreation areas
Marina - small docking facility
Fishing -lagoon, creek and deep water
Riding - Equestrian center
Access - Controlled
Club Information - Call 843-842-2828 for details.
WINDMILL HARBOUR
Located on Jenkins Island, which is just across a short causeway from the northernmost end of Hilton Head Island, Windmill Harbour is the place for anyone who appreciates the boating life. This private plantation is centered around the harbour, or more specifically, the South Carolina Yacht Club, which sits on a small peninsula in the middle of the harbour.
The marina consists of 260 slips, 27 of which are attached to homesites and allow owners to moor at their back doors! There is a lock system which maintains harbour depth and protects boats from wakes, currents, and silting. Boaters can come and go at any tide directly into the Intracoastal Waterway. There is a marina store with food, supplies, and a fueling station. While boaters are out the rest of the family can enjoy harbour front recreation with pool, hot tubs, sauna, and the racquet club!
Facilities:
Tennis - four courts at the club
Swimming - Pool at recreation club
Marina - 1, private lock system
Bike paths - 3 miles
Access - private, Owners and guests only
Club Information - Call 843-681-4844 for complete details.
The Hilton Head Island & Beaufort Area
BEAUFORT
With its moss-draped oaks and historic homes, Beaufort is a terrific place to call home. Located just a few miles west of the Atlantic Ocean, Beaufort is a jewel along the Southeastern seaboard. An ideal place to raise a family, retire or relax, The Lowcountry features a wide range of amenities, combined with a laid-back atmosphere that makes every day special. Fresh ocean breezes, friendly people and centuries of history make Beaufort a unique place to live.
When it comes to sightseeing, Beaufort has some of the finest historic homes, museums and historic sites in the Southeast. From sandy beaches to Arts in the Park, Beaufort offers a broad range of sightseeing options for visitors and residents alike. With all of the area's unique history, arts and architecture, be sure to take the time to enjoy all that Beaufort has to offer!
If you're thinking of making Beaufort your home, you'll want to do your homework and explore the various real estate options in the area. From historic mansions in the National Landmark Historic District to quaint houses throughout the city, Beaufort features a wide range of options to suit any lifestyle. A knowledgeable Realtor can help familiarize you with Beaufort's diverse neighborhoods and help you find the house, condominium or land that you've always dreamed about in the Lowcountry.
HAIG POINT
Haig Point is located on the Northern tip of Daufuskie Island in South Carolina.
To reach Haig Point, you leave from the Welcome / Embarkation Center located on the southern end of Hilton Head Island. As you take the private ferry across the Calibogue Sound, you have a clear view of the Harbour Town Lighthouse in Sea Pines. Most days you will see the dolphins swimming through the sound as the gentle waves flow through the tall sea grass.
Haig Point offers an array of world-class amenities; a masterpiece 27-hole golf course, a splendid country club with lowcountry charm, tennis courts, a newly equipped fitness center with adult lap pool, a croquet court, an equestrian center and beach club, all tastefully blended with the island's natural beauty. Elegant estate homes, golf cottages and plantation homes are available, plus a variety of prime home sites. You will discover this truly remarkable community where you'll find a world of peace.and peace of mind. It has everything you need to create a new world of your own.
HILTON HEAD ISLAND
Hilton Head Island has something for everyone: golf, tennis, beaches, watersports, cultural events, shopping, fine dinning, and sophisticated resorts. In many ways, it's the perfect vacation getaway destination. It's easy to see how a family whose interests vary widely can be accommodated in one vacation to South Carolina's Lowcountry. The Island will please beach lovers, with its 12 miles of sandy coastline, perfect for sunbathing, jogging, and bike riding. It's a sport enthusiast's dream with its world-renowned golf courses and tennis courts, not to mention nature walks, horseback riding, deep-sea fishing, and miles of bike paths for rollerblading, strolling or biking. Those who enjoy fine dining, shopping at outlet malls and antique stores will find more than enough to entertain themselves.
Highly developed, yet in harmony with nature, Hilton Head has no billboards, neon signs, roller coasters or skyscrapers. In fact, no building can be higher than the trees. Signage ordinances keep signs low key and unobtrusive. Only 35,000 permanent residents live on the island, along with wildlife such as deer, osprey, pelicans, alligators, herons, and near-shore dolphins.
PALMETTO BLUFF
Palmetto Bluff has been called one of the last land treasures on the east coast. This 20,000 acre community is defined by three historic rivers - the May River, the Cooper River and the New River - making this a true sea island. Located between Savannah, GA and Hilton Head Island, SC in the Carolina Lowcountry, the community offers residents a wide array of recreational amenities including a Jack Nicklaus Signature golf course and an Inn & Spa managed by Auberge Resorts. The Village, neighborhoods and amenities will be linked by a series of historic roads, paths and an innovative network of freshwater trails allowing residents to reach their destinations by bicycle, foot, boat, golf cart or automobile. Homes start at $795,000.
RIVER BEND
Located 15 miles from Hilton Head is Riverbend, a Sun City community. It is an age restricted adult community developed by Del Webb Corp. This upscale gated community has custom built homes on large lots with wooded, lagoon and marsh views. Amenities include a waterfront clubhouse with dock, pool and two 18 hole golf courses.
SUN CITY
Discover Sun City Hilton Head, the premier active adult community in the Carolinas!
Nestled in the heart of South Carolina's Treasured Coast lies Sun City Hilton Head, where the natural beauty of the Lowcountry coexists with world-class amenities and inviting destinations. Here, you don't just buy a home, you become part of a vibrant, active and growing community where you'll meet new friends and enjoy first-class amenities, clubs and activities. Nearby Hilton Head Island, Beaufort and Savannah offer shopping, dining and culture to please even the most discriminating taste. We encourage you to visit our 4,300-acre community to explore the choices in homes, neighborhoods and lifestyles that are as unique as you are.
At Sun City, you'll find a wide array of homes created specifically for the Hilton Head lifestyle. Del Webb, a member of the Pulte Homes family, ensures quality craftsmanship, value and attention to detail with its 7-Step Process, the industry's first multi-step customer care program. This 7-Step Process involves owners at every critical stage of construction and gives them the thrilling experience of watching what was once just an idea become a reality.
Town Square is Sun City Hilton Head's multi-million-dollar, 45-acre Community Recreation Campus. And what recreation there is! The 17,000 square-foot social hall is home to lectures, workshops, dances, concerts and more than 80 chartered clubs. The Purrysburg Fitness Center will keep you moving with a dance and aerobics studio, fitness equipment and both indoor and outdoor swimming pools. Play outdoors and enjoy tennis, croquet, horseshoes, bocce, bicycling, softball, fitness trails, and fishing and boating on the 20-acre Lake Somerset. When it's party time, head for our outdoor, covered Party Pavilion.
The most extensive walking trail at Sun City Hilton Head provides residents with an opportunity to commune with nature in a spectacular natural setting. The elevated boardwalk is slightly less than one mile in length, at 4,400 feet, and meanders through acres of majestic oaks, pines, maples, gum trees and wetlands. Scores of species of birds live in the area, including bald eagles, hawks and osprey, as well as deer, rabbits and tortoises. There are three covered "comfort stations" along the nature trail, providing water, emergency phone service to the front gate, benches and shade.
Golf is a "given" on the Treasured Coast, and Sun City Hilton Head gives you two terrific choices. Our 18-hole Okatie Creek Golf Club-which includes a driving range, putting green, and a 10,400-square-foot clubhouse-and the Hidden Cypress Golf Club are both designed by PGA tour professional Mark McCumber. The Hidden Cypress Golf Club and Recreational Center includes the Hidden Cypress Golf Club facility, a state-of-the-art fitness center, Citta del Sole Restaurant and Cafe, and meeting rooms-all in one large building. In addition, a 5,000-square-foot heated outdoor pool with swim lanes and walking area is located adjacent to the fitness center.
If gardening is your passion, you can exercise your nurturing nature here. Our community garden has 57 fenced 20' x 20' gardens available for lease-each with irrigation. Do you prefer indoor handiwork? Our Yemasee Crafts Center has workshops for ceramics, painting and sewing, as well as a computer lab. And, our state-of-the art, fully-equipped, 6,250-square-foot workshop with separate rooms for large machinery, assembly, tools and lumber will keep your hands busy.
Located midway between Beaufort and Hilton Head Island in the heart of South Carolina Lowcountry, magnificent Spring Island is one of the most beautiful and historic properties anywhere. Only 400 homes will ever be allowed, and over 1,200 acres has been set aside as a permanent nature preserve. In addition to its award-winning Arnold Palmer golf course, the Island is home to an abundance of flora and fauna and features riding, tennis, boating, superb fishing, sporting clays, kayaking, and 35 miles of hiking trails and bridal paths.
Acreage: 3,000 acres (1,200 hectares)
Gatehouse: 24 hour manned & controlled access
Club Structure: Equity, member-owned club
Golf: The Old Tabby Links, a gem designed by Palmer and Seay. An 8-acre practice facility includes a green and bunkers; three golf pros
Clubhouse: Two clubhouses; many dining options with fresh fare from the surrounding waters
Tennis: Four clay courts with a tennis pro available during the Spring and Fall
Equestrian: Equestrian facility with boarding stables and miles of marked trails throughout the island
Fitness: Professionally staffed fitness center with state-of-the-art equipment and an aerobics room
Recreation: Boating, Fishing, Shrimping, Crabbing, Kayaking, Swimming, Fitness, and miles and miles of marked trails from which to view the prolific nature on the island
Hunting: Hunting is available at nearby Pleasant Hill for Spring Island members; A sporting clay course is offered at Spring Island
Swimming: One outdoor heated and cooled swimming pool for the enjoyment of the residents
Spring Island Trust: Headquartered in the Mobley Nature Center, has a staff of three full time naturalists who lead tours and excursions on the Island and throughout the region
Lots: from $235,000 to over $1 million
Homes: from $985,000 to $3,995,000.
Other Areas of the Island
Outside the plantations there is a great diversity of communities! The main difference is the absence of controlled access to them, which may be why some choose them over plantation living. Though most of the "off plantation" communities do have their own covenants, restrictions, and Architectural Review Boards, they tend to be less strict and allow for more individuality than do those "on plantation".