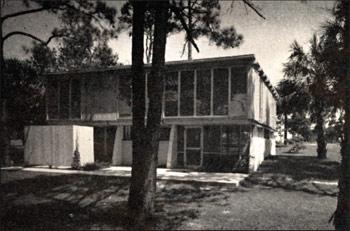 By today's standards, the first house at Sea Pines would be considered small and lacking in amenities, but it established the prototype for the oceanfront homes of the future. Built by developer Charles Fraser for himself, it incorporated basic ideas that have become the standard.
Architect John Wade worked with Fraser to create a home that would be spacious, easy to care for and able to weather coastal storms. To that end, Wade's design called for the home to be raised on four masonry piers, the idea being that storm water would sweep through without causing extensive damage.
"It was sort of a test house that convinced people raised design could be attractive," said Wade. No doubt the enhanced views from upper levels were also selling points for this new concept.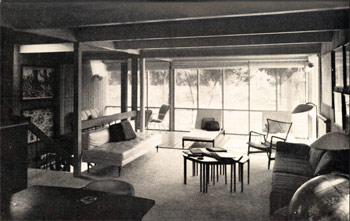 To add to the modern look, Wade chose materials such as bleached cypress and light masonry to blend with the outdoor setting. "We were fortunate in building the first two houses for contemporary minded owners," said Wade."Now almost all prospects want contemporary design."
Those design elements include spacious living quarter by opening the sliding glass wall, the screened porch became part of the living room. Jalousie windows in the dining area helped with cross-ventilation to keep the house comfortable. The lower level was also screened and included a bath area to rinse off after going to the beach.
Wonderful views, ocean breezes and plenty of space for relaxing – all in all, it was the perfect vacation home for the times. And, not only did it set the pattern for Sea Pines, it created a whole new style in resort living that continues to the present.