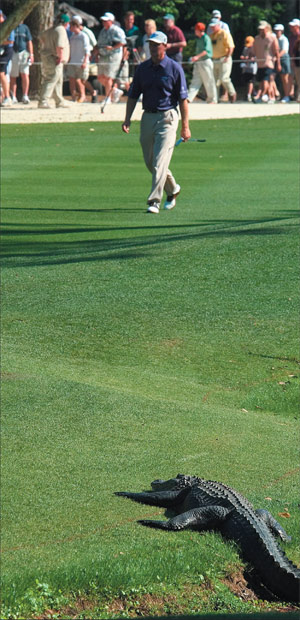 BY THE MID-1980S, SEA PINES Company was in financial trouble and the future of the Heritage Classic was uncertain. Harbour Town Golf Links, Hilton Head Island-s own PGA Tour stop since 1969, was in poor condition because the funds were not available to properly maintain its upkeep. Unless something was done, Harbour Town would lose its spot on the Tour.
In 1986, Joseph B. Fraser Jr. stepped to the plate with a plan to save the tournament, and in doing so set precedence for giving back to the community."We had to do something," Fraser stated. "The course was unacceptable."
Fraser, John Curry and Sol Blatt put their heads together and enlisted a group of local businessmen to help. Together they created the Heritage Classic Foundation, a non-profit organization that became the general sponsor of the Heritage, providing the financial stability, guidance and direction the tournament so desperately needed. The men also raised the $300,000 necessary to restore the course to playable condition and acquired the resources needed to for the $1 million in prize money.
"Creating the Foundation as a non-profit was a requirement in order to get back in good standing with the
golf commissioner," Fraser noted. However, its formation had an even greater economic impact on the community. By establishing it as a 501(c) (3) non-profit organization, any proceeds left over from the tournament were to be donated to local charities.
"They wanted to give back to the community by giving to charitable groups who needed it most," said Steve Wilmot, tournament director.
In that first year, the Heritage Classic Foundation distributed $133,695 to 18 charitable organizations. Last year, it donated a record $1.6 million to various organizations. Thanks to that dedication and support of sponsors, volunteers and spectators, the Foundation to date has donated more than $13 million.
Although the Heritage only comes once a year, organizing it is a year round effort. According to Wilmot, the Foundation employs 10 full-time employees and hires four full-time interns during the weeks leading up to the tournament. It also relies heavily upon volunteers who put in countless hours of their time to handle registration duties, update scoreboards, serve as marshals and scorekeepers, and help make the professionals and their families feel welcome.
Past champions of the tournament, which is now called the Verizon Heritage, include Nick Faldo, Hale Irwin, Bernhard Langer, Johnny Miller, Jack Nicklaus, Greg Norman, Nick Price, Arnold Palmer, Tom Watson and the late Payne Stewart.
But the real winners of the Verizon Heritage continue to be the thousands of individuals the tournament helps each year through the Foundation. Past recipients include Hilton Head Heroes, Volunteers in Medicine, the Children-s Center, and the Boys & Girls Club.
The Heritage Classic Foundation donates funds in several different ways. Each year, the Foundation-s Charity Committee meets to grant a portion of the tournament proceeds.
In 2005, it donated $535,000 to 64 non-profit groups throughout South Carolina and Georgia. Th rough its Scholar Program, which was established in 1993, the Foundation assists Beaufort County students who want to attend college. In 2005, 13 students were named Foundation scholars.
In addition it has a Birdies for Charity program in which charitable organizations use the Verizon Heritage scores as a fund-raiser. Organizations ask their supporters to pledge a small amount for each birdie made at the tournament. Traditionally, the Foundation has matched each donation."With support from loyal sponsors, spectators and volunteers, the Verizon Heritage looks forward to continuing its tradition of giving year after year," Wilmot said.
While Sea Pines is celebrating its 50th anniversary this year, the Heritage Classic Foundation is celebrating its
20th year in existence. And Fraser, who is celebrating his 80th birthday this year, recently announced his plans to step down as chairman after this tournament."It-s been a good journey," Fraser said. "We had to set a limit on the terms. So when I turned 80 I said I would step down." His son, Simon Fraser, currently vice chairman, will take his place.
The 38th annual Verizon Heritage will be held April 10-16, 2006.