Sea Pines - The Harbour Town Course is a Winner
The Harbour Town Course is a Winner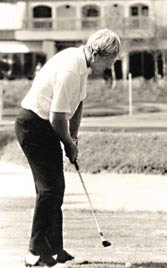 "THE TOURNAMENT ITSELF, I don-t remember much about," said Jack Nicklaus of his 1975 win at the Sea Pines Heritage Classic. Perhaps he can be forgiven that memory lapse, given his 70 career wins, including 18 professional major championship victories. He may not remember winning the tournament but no other player has created a greater legacy at Harbour Town, located in Sea Pines resort on Hilton Head Island. The first design project Nicklaus took on, Harbour Town counts as one of his trophies. Though he has built hundreds of golf courses worldwide, the Harbour Town course is a career highlight as important as his first professional victory in 1962.
Ranked as the number one course in South Carolina by Golf Magazine, this is the course to play at Hilton Head. Created by Jack Nicklaus and Pete Dye, the Harbour Town links took their inspiration from old courses in Scotland. The par-71 course is considered short by today-s standards but presents a challenge to even the most experienced golfers. Now known as one of America-s most prominent player-architects, the "Golden Bear" says, "That golf course started me on something that has been a lifetime love, and it-s something that I am very proud to have been involved in," said Nicklaus."I wish through the years I could have played it more, but there are just too many tournaments."That course has contributed to a second vocation and second avocation
that has been very rewarding." Thirty-eight years later, Harbour Town continues to be an important stop on the PGA Tour, attracting internationally ranked players.
Verizon Heritage Fast Facts

Name changes over the years:
Heritage Classic - 1969-1970
Sea Pines Heritage Classic - 1971-1986
MCI Heritage Classic - 1987-1994
MCI Classic - The Heritage of Golf - 1995-2000
WORLCOM Classic - The Heritage of Golf - 2001-2002
MCI Heritage 2003-2005
Verizon Heritage 2006
How the purse has grown:
1969 - $100,000
2006 - $5.3 million
Top 5 money earners (over $100,000):
Davis Love III $2.5 million
Stewart Cink $1.6 million
Peter Lonard $936,000
Glen Day $777,063
Justin Leonard $771,195
Biggest 36-hole lead:
6 holes - Darren Clarke (2005), Jack Nicklaus (1975) and Johnny Miller (1974)
Longest tournament:
2001 - 77 holes (two-playoff holes Sunday, play
suspended, darkness, play resumed Monday
morning for three more holes)
2004 - 77 holes (champion decided after five playoff holes)

Highest score
by a winner:
283 - Arnold Palmer 1969
Heritage-s top 10 finishes (three or more):
11 - Davis Love, III
10 - Tom Kite
9 - Hale Irwin
8 - Craig Stadler
7 - Gil Morgan and Tom Watson
6 - Bob Murphy, Hal Sutton and Lanny Wadkins
5 - Chip Beck, Ernie Els, Ray Floyd, David Frost, Mark McCumber, Larry Mize, Greg Norman, Nick Price, Payne Stewart, Tom Weiskopf and Fuzzy Zoeller
4 - Stewart Cink, David Edwards, Benhard Langer, Larry Nelson, Jack Nicklaus, Arnold Palmer, Ed Sneed and Doug Tewell
3 - Andy Bean, Homero Blancas, George Burns, Russ Cochran, Fred Couples, Rich Crawford, Ben Crenshaw,
Bob Estes, Gibby Gilbert, Hubert Green, Jay Haas, Nolan Henke, Scott Hoch, John Huston, Don January, Tom Lehman, Graham Marsh, Billy Mayfair, Mac McLendon, Andy North, Mark O-Meara, Jesper Parnevik, Steve Pate, Kenny Perry, Gary Player, Loren Roberts, Gene Sauers, Vijay Singh, Jeff Sluman, and Scott Verplank
Source: Heritage Classic Foundation